Winter is usually a slower part of the year for Kenwood Racing, with many of our best runners on the farm for some R&R, but there still was plenty of news to report. Here's a recap of highlights for the first quarter of 2017…
Story Spinner, one of our two year purchases from 2016, began the New Year with a nice closing 3rd on January 6th at Penn National in his career debut. Well back early, he rallied late while still well back of the winner. Then, on January 29th he journeyed from Penn to run at Laurel Park and ran a hard-trying 2nd, far behind the winner and well ahead of the rest of a scratch shortened 7 horse field. He was claimed from us out of the race, and while we'd have been happy to keep him and break his maiden ourselves, he showed in his first two races that he's an honest horse likely worth about what he was claimed for, so he was properly placed and it was a decent result for us.
Kenwood's first winner of 2017 came on January 28th, when Three Arch Bay won her 2nd lifetime start at Penn National. Dead last for most of the race, while running into a slow pace that favored front runners, she turned for home far behind and exploded in the stretch under a superb ground-saving rail trip by jockey Andrew Wolfsant to get up in the final strides, winning by a head. This filly had run consistently for us in lower level claiming races last year. After time off this summer and gradually improving races last fall after her return, she appeared ready to win in her previous start, only to turn in a unexpectedly dull 6th on January 13th to begin the New Year. Trainer Mark Salvaggio felt that race was a throw out on a speed favoring track and his confidence was justified with her win.
On February 10th, Wandagonenotastray had an exceptionally game career debut at Aqueduct. He was bumped very badly coming out of the gate (read the chart comment), shuffled back, but managed to run a closing 3rd despite it all. After the race, we found he grabbed a quarter when he was bumped, yet still ran every step of the way. The injury fortunately was not at all serious, but the fact that he ran with a bleeding foot and still tried hard for the entire race showed he's a game, hard-trying horse with a future ahead of him. Wanda had another tough run in a tough 10 horse field at Laurel Park, where he drew the highly unfavorable 1 post on a sloppy track on February 25th. Down inside with mud hitting him in the face, he dropped back to last on the backstretch and looked like he was going nowhere. When they straightened for home and he got clear sailing, he exploded, picking off horses with every step, finally finishing 4th, beaten in a photo for 3rd and a length behind the 2nd horse (the heavily favored winner was much the best and won easily). In another few strides, he would have been 2nd and while it was a shame not to hit the board with such a good effort, both rider and trainer felt he ran exceptionally well and will improve at a little longer distance. This horse has had two tough debut races as described above, yet he's run hard and well both times. We are confident he's going to be a nice horse for us, worth more than his modest purchase price last year at the sales. Anyone owning this horse has reason to look forward to a lot of fun with him this year.
At Aqueduct on February 11th, Win Money My Honey saddled perfectly, calm but on her toes, broke very well, sat in an excellent stalking position under a fine ride by jockey Jacqueline Davis, but dropped back badly on the far turn to finish 8th of 9 runners. Jacqueline said after the race, "she'll improve a lot off this, she has a very nice stride, acted good, showed speed, when she got a lot of dirt in her face on the turn she totally lost it, but when I got her clear in the stretch she was starting to run again. I really think going longer with this one under her she'll do well, I really like the way she moves." 
Does this mean she'll be a good or even decent horse? Who knows. Obviously we didn't want to see her back up badly, but she did handle her debut well in many respects; saddled well, broke well, and the rider felt she had horse under her. She is bred to go a longer distance, so this is one where the next race or two will tell us a lot. If she indeed moves forward, as a NY bred running for large purses against restricted company, we'll be ok. If she backs up again and runs 8th then we probably just have a horse with little talent. We shall see, stay tuned!
Kenwood's first co-owner group of 2017, #34, closed with all available shares sold in just 8 days in February! Our lovely homebred by E Dubai out of Exchanging Fire, a multiple stakes winning mare who earned nearly $250,000 on the track in her great career is a filly who we hope and think is going to make her owners very happy this year (and beyond)! She's presently in training at T-Square Stud in Ocala, Florida with Adam Parker, and will ship north to Monmouth Park in May to join trainer Ben Perkins there.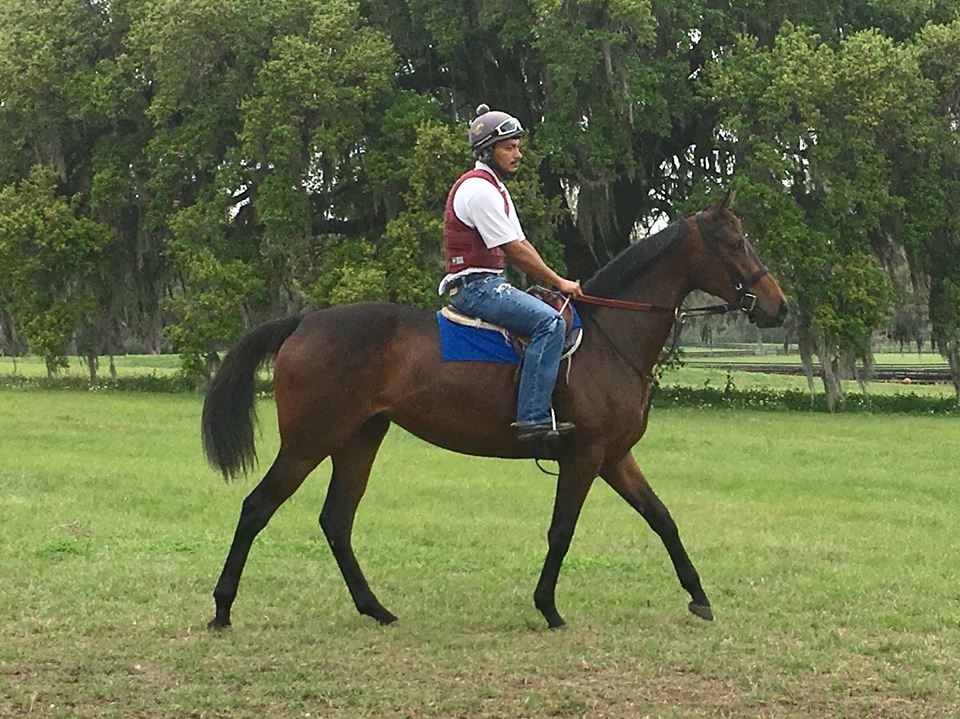 On February 24th, we had a very fine Kenwood debut for Cape Mist, who was a flying 3rd from far back, beaten less than 2 lengths for the win and gaining with every stride at Gulfstream Park. On March 16th, Cape Mist came back with an exciting win at Gulfstream, when she tracked the early leaders and drove through a narrow opening on the rail in the stretch under a very heady ride by Jose Ortiz to win by 3/4 of a length. Partners Allen & Marshall Katz and Tom (the King) Christien celebrated with trainer Jane Cibelli and Robb Levinsky in the winner's circle. Congratulations to Wasabi Ventures Stable, our partner in this nice filly!
On February 25th, Kenwood delighted in the birth of Exchanging Fire's 3rd foal, by the leading sire in the Mid-Atlantic region, Jump Start. He was born at Daydream Farm in Hamburg, Pa. at 6am and is a strong, healthy baby who was up and nursing in a matter of minutes. This is the brother to our lovely two year old filly by E Dubai, who is in training at T-Square Stud in Ocala. Exchanging Fire lost her first foal at birth and aborted another foal halfway through her term. Breeding is NOT a simple or easy business. There are never any guarantees, so to get a healthy colt like this by a top sire is truly a gift to all of us. He's doing great, as he approaches his first month in the world and is as good-looking a foal that has ever been seen!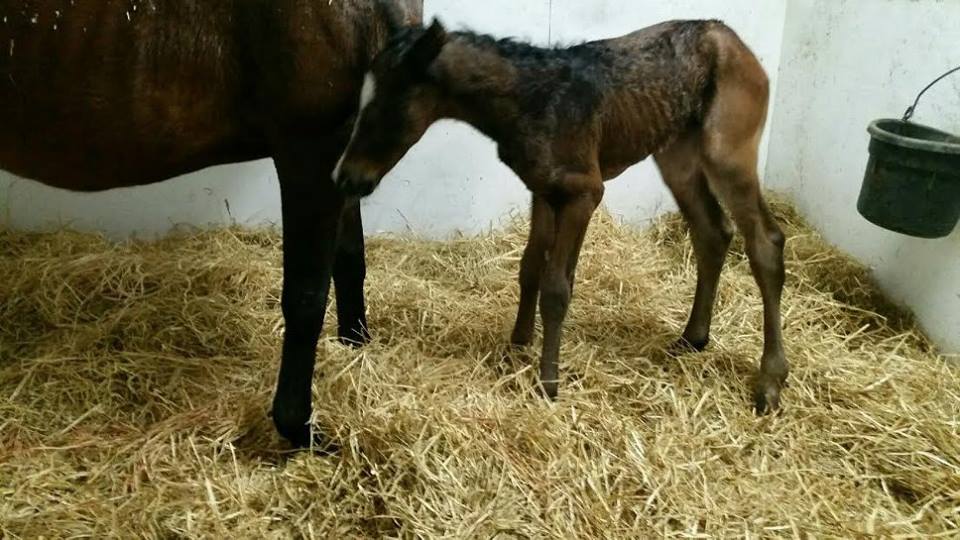 Turning to auction news, Kenwood celebrated some real success at the OBS March two year olds in training sale, with the purchase of two fillies and a colt, all for prices hard to believe for horses of this quality. We were thrilled to purchase Hip #658; a filly by top sire Scat Daddy and the first foal out of a mare who earned over $240,000 from a super stakes winning family, Hip #441, a strapping colt from the first crop of Flat Out, out of a stakes winning mare, and hip #207, a Kitten's Joy filly who is a full sister to a stakes winner of $230,000+.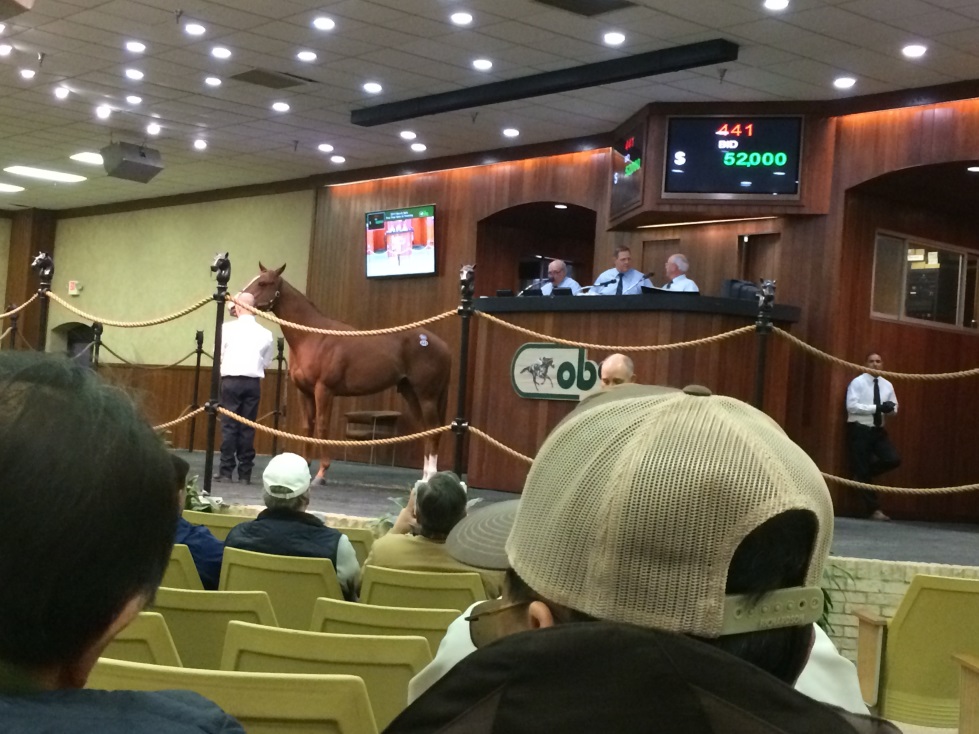 We sent out a pre-sale analysis to our partners and co-owners just prior to the sale that stated in part "The trend over the last year has been towards an increasingly bifurcated market, where the highest priced horses of all types (weanlings, yearlings, broodmares and two-year-olds) continue to rise in average while the remaining 90% + of the market has shown a lot of "soft spots", with slippage in prices and more RNA's (horses that failed to meet a reserve and went home unsold). Basically, a few billionaires have no limits on what they will spend to compete with each other for the horses they want, while there not sufficient commercial buyers like ourselves, operating within budgets, to support the rest of the market. IF this trend continues at the March sale, it will probably offer some attractive buying opportunities. This sale has a higher overall average price than April OBS or Fasig-Tipton May, but frequently some very nice horses in the optimum value price range detailed above "fall through the cracks" here because the high-end buyers are focused on the large number of super-expensive horses".
Bottom line, this is exactly what happened, more horses sold for 1 million + than ever, yet the median was down, the buybacks and scratches (people scratch horses when it becomes obvious they aren't likely to get their price among other reasons) way up. There was less competition in the "middle market" than we've ever seen, and that allowed us to buy three horses who were all in our absolutely top list, the ones we rated the highest and wanted the most.
As spring approaches, we look forward to the opening of Monmouth Park and a great year of racing up and down the east coast, from Saratoga – Gulfstream, stay tuned! We thank all the members of the Kenwood Racing family for their support.