There was plenty of Kenwood Racing news to report for the spring of 2017. Here's a recap of the highlights…
It actually came at the end of the winter, but we were delighted to announce the birth of Exchanging Fire's 3rd foal, by the leading sire in the Mid-Atlantic region, Jump Start, born at Daydream Farm in Hamburg, Pa. on February 25th at 6am. An exceptionally strong healthy baby, he was up and nursing quickly and has developed into a very attractive youngster over the spring. He's almost as tall as his mother already and has a bright future ahead of him. This is the brother to our lovely two year old filly by E Dubai, named Exchanging Ember, who is expected to make her debut for us this fall.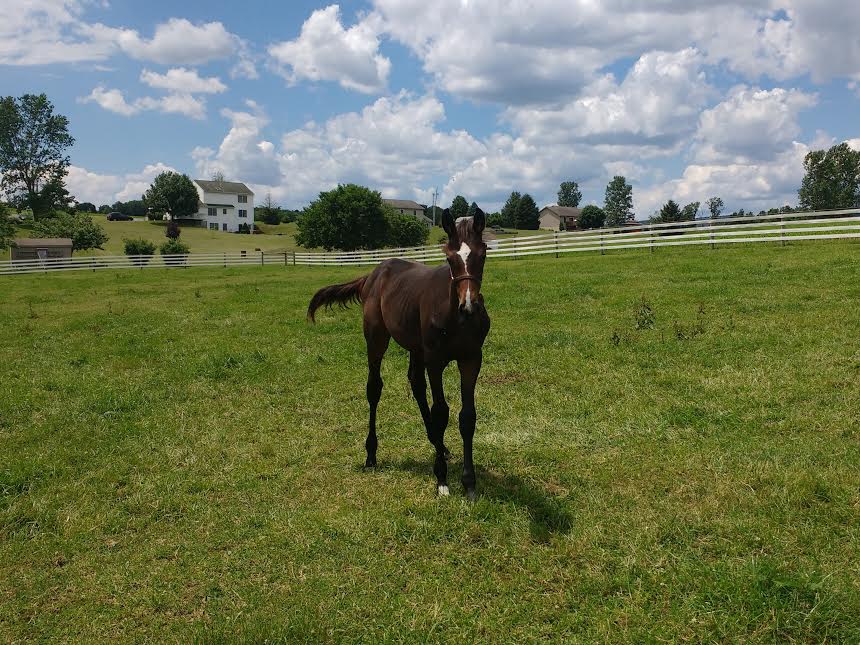 Jump Start-Exchanging Fire foal, photo courtesy of Paul Callahan.
Some people may recall that Exchanging Fire lost her first foal at birth and aborted another foal halfway through her term. Breeding is NOT a simple or easy business, there are never any guarantees, so to get a healthy colt like this by a top sire is truly a gift to all of us. A great way to celebrate the spring season!
Next up, some sales news. After three days of strike outs, we got a real bargain at the end of the OBS April sale, purchasing the two year old filly Thanks Mom on April 28th. We didn't expect to be able to buy her in our value range, based on how strong the sale was. Very reminiscent of the Scat Daddy filly, Lisa Limon, we purchased at OBS in March, lost at the end of the sale and bought for below value. Note we had four horses we loved at this sale, all very comparable in our ratings; they brought $105,000, $72,000, $85,000, and the filly we purchased brought $30,000.  Hip #849, the other filly in the group, worked in the identical time (a fast 10.1), and was by a promising but unproven new sire (Rattlesnake Bridge), while the filly we bought is by Majestic Warrior, proven sire of 15 stakes winner and 2 champions, out of a stakes winning mare. This purchase certainly made a very long sale and a lot of work worthwhile!!!! 
Majestic Warrior filly Thanks Mom. Photo courtesy of Adam Parker.
Our sales success continued on May 23rd, with the purchase of one very nice horse at the right price at the Fasig-Tipton Mid-Atlantic venue in Maryland. Named Charming Emmy (to honor Kenwood partner Emily Lin), she's by Sky Mesa (sire of over 60 stakes winners and three champions & counting) and is a FULL sister to a filly, Sapphire Sky, who won over $325,000 and multiple stakes in New York. She worked in a quick 10.2 at the sale, galloped out in 22.1 and did it all easily with speed to spare. So far, "Emmy" has trained exceptionally well at Monmouth Park and we are expecting her debut to come in July.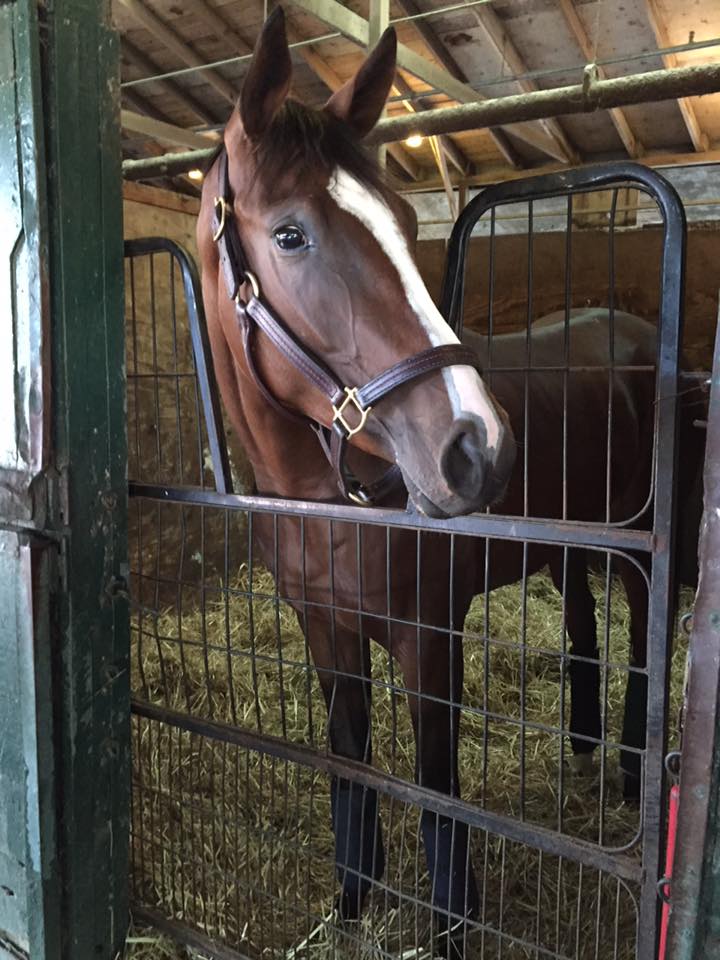 Sky Mesa filly Charming Emmy. Photo courtesy of Kenwood partner Chris Driscoll.
We were hoping for 2 or 3 horses here and much like OBS April (where we purchased the filly Thanks Mom and got out bid on everything else), we ended up with one really nice horse as we were unwilling to either overpay or settle for a secondary group of horses. Better a smaller group of quality horses at the right price, than a larger group of lesser quality or a group of overpriced horses when we are investing our own and our client's money. OBS April and Fasig-Tipton May featured record setting prices, we shopped carefully and are very happy with our purchases.
Charming Emmy was paired with Thanks Mom for group #38, which was fully subscribed for in less than 2 weeks,
In racing news, High Five Cotton sat just off the early speed, under a picture perfect ride by Paco Lopez on June 18th, took over the lead in deep stretch and won impressively at Monmouth Park. He was drawing away at the finish and galloped out well in front of the field. Cotton was coming off a good third on June 3rd, after a layoff of several months and took the step forward we were looking for. This is a nice horse who is finally coming into his own as a three year old. Congratulations to the large group of partners and co-owners who were on hand to celebrate his win on a beautiful Father's Day.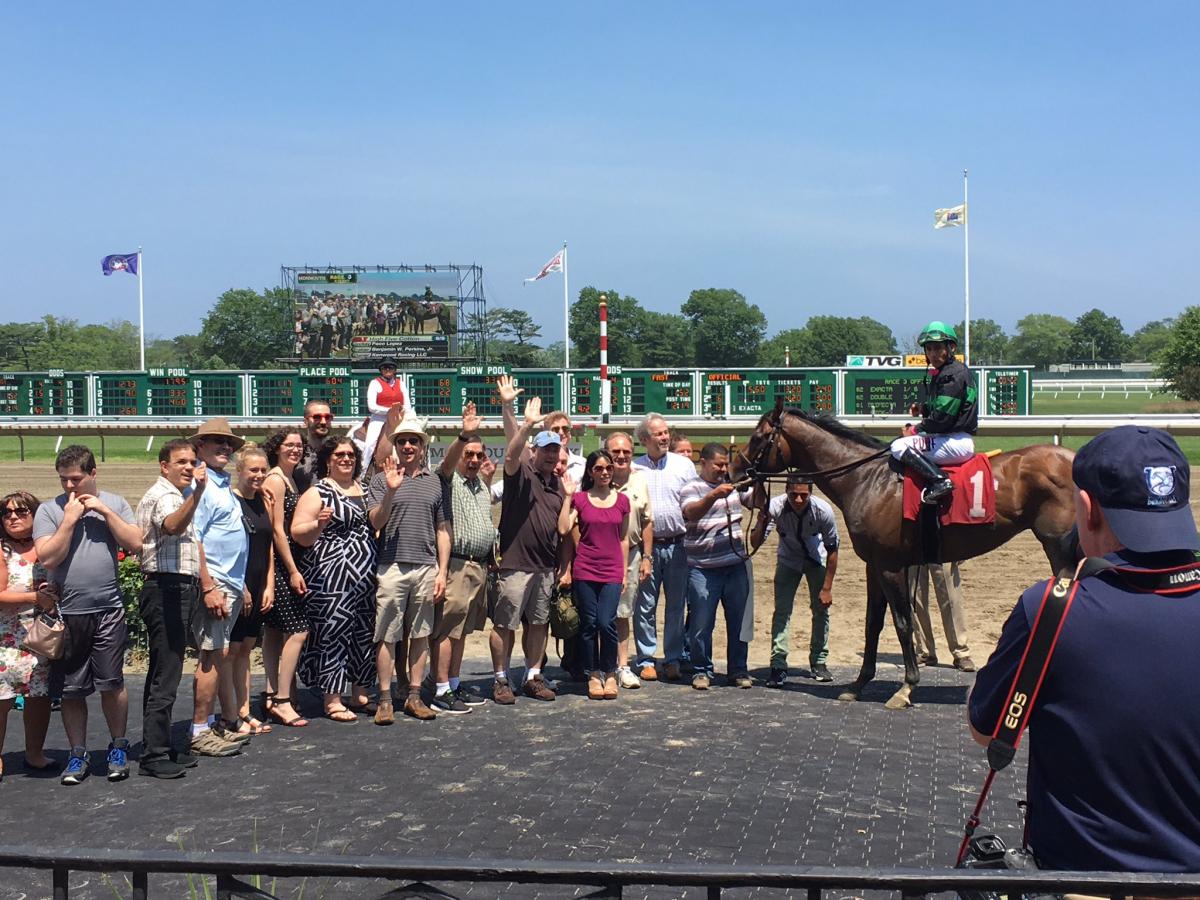 High Five Cotton wins race 3 at Monmouth Park on June 3, 2017. Photo courtesy of Brian Leckie, Monmouth Park racing ambassador
On June 30th, as spring turned to summer, we celebrated another win at Monmouth Park when Fifty Eight OG made a late surge to get the money by ¾ of a length. We had claimed this horse in March at Gulfstream Park for just $16,000 and after a good 2nd in his debut for us in a Gulfstream allowance on April 7th, followed by a disappointing 6th against older runners at Parx on June 6th, he reached the winner's circle for Kenwood and partner Wasabi Ventures Stables three weeks later. He's scheduled to run back for us in July at Monmouth.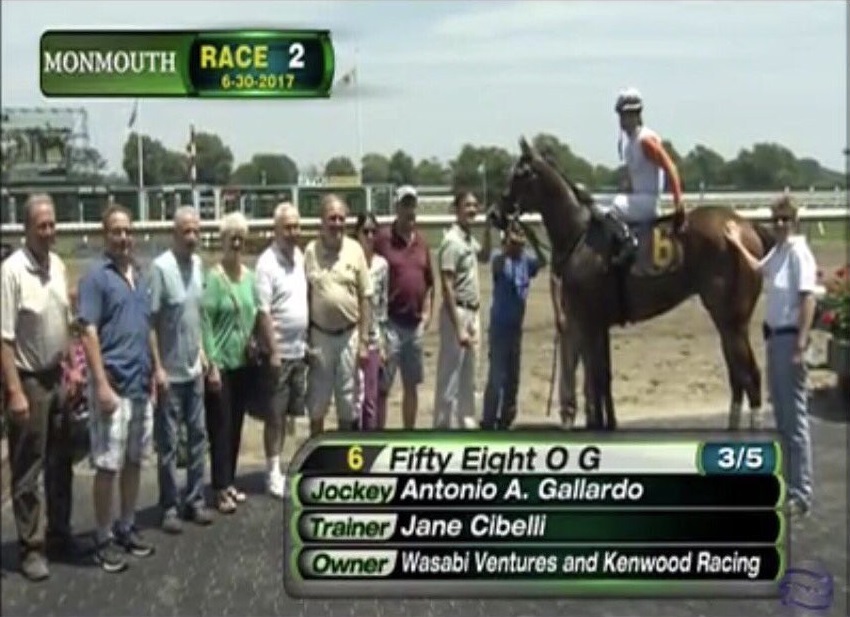 Finally, we began the 2nd half of 2017 by welcoming two new owners to the Kenwood Racing family on July 1st. George Katzenberger and Shannon Kelly, & Concrete Properties LLC (Steve & Lisa Denholtz and Steve & Arielle Cassidy owners) are wonderful people, who have been co-owners with us for quite some time and share a passion for Kenwood and the thoroughbred business.
Originally from Essex County, NJ, George & Shannon presently live in Monmouth Beach with their son Matt and attend races at Monmouth Park regularly. Shannon is an executive in the financial services industry while George, who holds a PhD. in Biochemistry and Molecular Biology, after over 2 decades in the insurance industry, is presently active with property renovation and management in Oceanport and Long Branch.
Both the Denholtz and Cassidy families live within minutes of Monmouth Park and attend races at Monmouth regularly.  Steve Denholtz is the C.E.O. of Denholtz Associates, a real estate development firm based in Old Bridge, New Jersey that owns-manages properties throughout the east coast from New York to Florida. Under his stewardship, the Company has grown to more than 60 employees and owns-operates more than 5,000,000 square feet of commercial properties. Stephen Cassidy is President of Denholtz and Associates and oversees the operations and finance functions of the Company's multi-state portfolio from its headquarters in Matawan, New Jersey.
We are delighted to welcome our newest owners to the team as we look forward to an exciting and busy summer season with a promising crop of two year olds.