Lisa Limon, a filly who we have felt from the start had significant talent but had not run up to her potential in her first few starts unleashed a stirring run to win by a head at the wire on December 7th race 6 at Gulfstream Park as her stablemate, the hard trying Vibrant Spirit, finished a close 3rd in the same race. Vibrant Spirit & Lisa Limon both ran outstanding races, with Lisa coming from dead last after breaking from the far outside post to win by a head at 35 to 1 odds, while Spirit got a near perfect trip and rallied strongly to finish 3rd, beaten a half-length for the win by Lisa with one filly in-between them.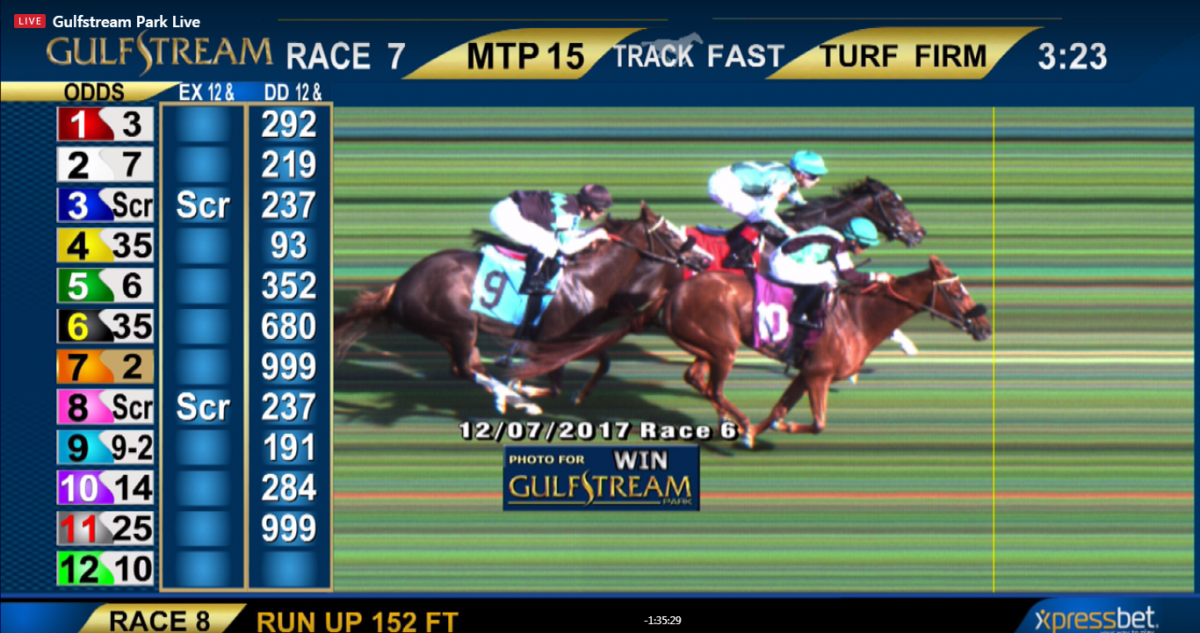 We said going in "each gets a top rider, both are ready and training well for this - all systems go".  Despite tough posts and a super-competitive field they lived up to their training and their potential here.  We expect both fillies to get some well deserved time off iat the farm in Ocala to mature, perhaps 60 days and back into training at Gulfstream. Each filly has made six career starts, a real achievement that less than 5% of all horses manage to do at age two.  We'll see how they come out of the race and decide if we want to give them another start before they head for the farm. Both are totally sound and have talent so we have a lot to look forward to.
As a point of education, this is just a very different game than many people understand, especially with young horses. Most take a little time to find their best stride. Every owner knows how frustrating it can be, but the key is perspective and patience. Lisa has trained like a good horse from day 1 and she showed her true ability in an impressive maiden breaker in a tough race at a very competitive track.  As we like to remind people, in this business "it's never as good as it seems when you are winning and never as bad as it seems when you are losing". Hard to keep that in mind but true.
Congratulations go out to trainer Ron Spatz, an excellent, hands-on horseman. We bought these fillies at a gross discount at the OBS sales, where we worked our butts off and got great value. Most horses will either never win or be cheap claiming horses, those are the facts. Note the highest priced 2 year of 2016, bought by the top people in the business for $1,800,000, is still an unraced maiden. That's par for the course, something to keep in mind when you think "I can't believe we paid $50,000 for a horse and he ended up to be a cheap claimer".  Both of these fillies have already beaten the odds. Never any guarantees but if all goes well we're going to have a very good 2018 with one or more of them and our other 2 year olds. All six of our two year olds will have started by the end of 2017. To date, one has won, three have placed. While it may seem a long time coming, statistically 11% of all two year olds win, and 44% make at least 1 start. We've already blown those numbers out of the water, while paying a fraction of the sales averages for all of the horses we purchased.
In other news, Thanks Mom made a huge leap forward in her 2nd start, finishing a solid 4th and is doing super, ready to run back at the end of the month as planned. Trainer Ron Spatz has said from the start she'll be best longer & probably on grass, she'll get a shot to prove that next time and has a shot to be a decent filly for us.