Bobby Blue Eyes, who became Kenwood Racing's first two year old winner of 2016 when he broke his maiden in impressive style at Gulfstream Park on September 29th, was retired after a 4th place finish at Gulfstream on February 3rd.  "Bobby took a bad step galloping back after the race" explained Kenwood founder & racing manager H. Robb Levinsky. "Fortunately, we were able to stabilize him and the injury is not life threatening. While it might be possible for him to run again given time off, our team didn't think it would be totally safe for him to race again. We have a firm commitment to putting the welfare of the horse first with every horse in our barn and the best thing for the horse here is to retire him to a good, safe home where he'll have a happy life as a riding horse for some lucky person".  Kenwood co-owner CynSeo, who has a farm about three hours north of Gulfstream, was contacted and offered to give Bobby a home, a great gesture by a great co-owner. As she put it when we reached out to her "In the event racing is not an option, I will give serious consideration to his relocation to Sawgrass Farm.  This is truly like a heaven for horses. The farm is pretty, but the care is first class.  I spoke with my trainer, a young woman who plans to make horses her career.  She loves the appearance of Bobby Blue Eyes.  He will have the possibility of a full recovery for riding even if it takes quite a few months of rest and tender care.  Here at Sawgrass Farm, we do not start serious training until a horse matures and is at least four years old. My current high jumper came here at two, was ridden extensively at age three, and he started jumping exercises at age four.  He is now  age nine, has had five years of serious jumper training, and he is going to a show this weekend.  He already won a blue ribbon for his first show. I do not believe in pushing a horse too fast.  I prefer to let them gain strength and flexibility over a longer period of time."
Bobby had an all-too-brief, but fun and colorful racing career. Named by group #28 co-owner Ellen Gaynor to honor her late husband (and our dear friend) Bob Gaynor, he was also the first winning horse for co-owners TK & Michele Kuegler and Eric Riedi, who celebrated their first wins as an owner (after several close, in-the-money finishes) together on September 29th. Eric and co-owners Rafael Lopez, CynSeo and her daughter Nica all celebrated in the winner's circle at Gulfstream, and a happy and attractive group it was!  In his maiden win, he went right to the front and never looked back, repulsing several bids from the overwhelming 3 to 5 favorite, to win going away by 5 1/2 widening lengths, with the third horse 18 lengths behind. This was trainer Steve DiMauro's final starter for us, as he retired from the training ranks to take a management position at Gulfstream, a fitting way to celebrate over 15 years training horses for Kenwood as part of a fine training career that saw him win over 1000 races, nearly $26,000,000 in purses and dozens of major stakes.
A number of the same co-owners were on hand to celebrate yet again on December 22nd as Bobby reached the winner's circle yet again at Gulfstream, this time via disqualification. He ran a super race, just missing the win by a short length when tiring late after leading the entire way until the final 50 yards (clearly a nearly 2 month layoff when races for him failed to go hurt a bit fitness wise) to finish a game 2nd but was placed 1st when the favorite was disqualified for impeding the 3rd finisher in the stretch. Bobby ran absolutely super; he deserved a break and he (and we) got it on this happy day.
Congratulations to all the members of group #28, while Bobby's career was cut short, it was a good one and he's heading for a happy retirement and a good life.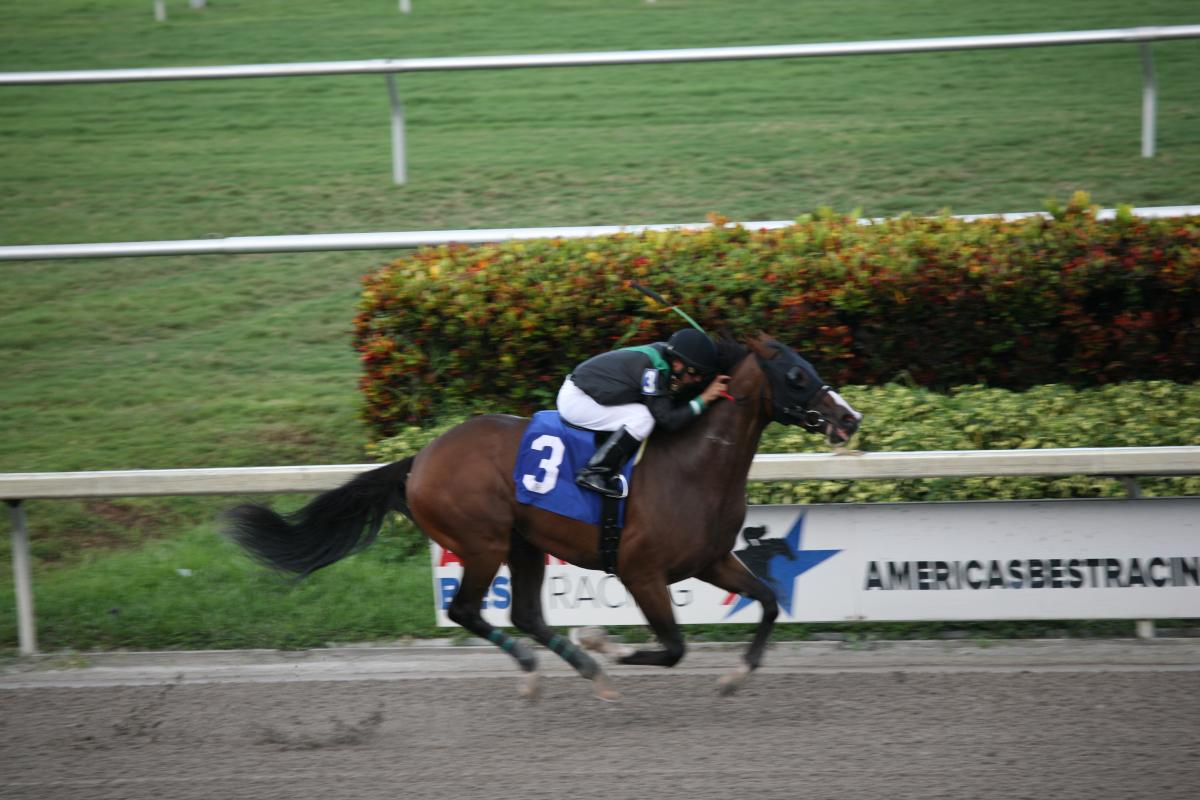 Photo courtesy of Kenwood co-owner CynSeo.